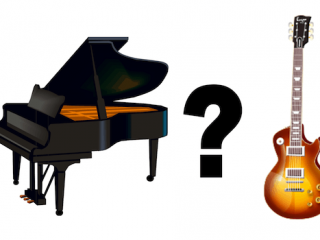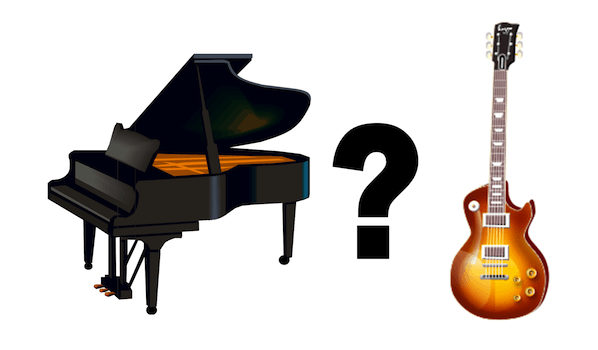 As I teach piano and guitar (sometimes both for the same students), I get this question often: Is piano or guitar easier to learn?  Should I learn piano or guitar? …or…Which instrument should I start on?
This is not an easy question to answer (but, then, what are blogs for, anyway!).
Let me begin by assuring everyone that I have seen very young children and older beginners succeed on guitar as well as on piano, so I can't say for sure that one instrument is "better" than another to start on.  Much depends on the student's interest and skill.  As for the "piano vs guitar, which is harder" debate, I can give reasons why piano is easier, at least as a starter instrument.  And I am of the opinion that, in general, piano is more reliable as a starter instrument.
THE CALL OF POP CULTURE
Unfortunately, a lot of young children prefer to learn guitar over piano because of the "coolness" factor.  From music videos to digital gaming, guitars appear to occupy a higher spot in pop culture.  Again, we certainly don't want to discourage a child's interest, and every child is different, but, in general, I doubt that a child's interest should be based on what happens to be more "cool".
If I were a parent, I would see about exposing my child to videos of pianists (including pop and rock artists like Billy Joel and Elton John) so that the child accepts the piano as a "cool" instrument as well.  This way, the decision to start on one instrument or the other can be made based on other reasons besides simply that "it's cool" (since both instruments, in effect, would be seen as equally "cool").
THE TECHNICAL DIVIDE
Just from a very basic technical standpoint, the piano is an easier instrument to play.  While I have seen a lot of kids succeed on guitar when starting at a young age, I've also seen a lot of them grow more frustrated because of some difficulties they encounter when trying to play guitar.  All you have to do to make a sound on piano is press a key.  On guitar, you have to pick at a string (often with a pick) and simultaneously press a string down with your other finger.  It is more like trying to do two or three things at once, while piano-playing is less complex.
The piano provides for a more comprehensive understanding of how music works.
Of course, we are speaking here about beginning lessons.  The fact is (and I believe this is true for most any artistic skill), once you get past the first few years and begin to tackle more advanced material, it really doesn't matter what instrument you play…it ALL is equally difficult.  But, at the beginning level, especially for young children, executing even basic moves on the guitar simply is more difficult than on piano.
Furthermore, most children want to learn how to sound like pop and rock stars on the guitar, but to really begin to sound like that, they need to learn chords and lead techniques which are very difficult for little fingers to master.  So, because it takes a while to get to that skill level, a lot of kids become frustrated and give up before they ever get there.  And learning classical guitar is even more difficult!
MY RECOMMENDATION
Most music educators agree that the piano is a universally more comprehensive instrument for learning music.  Piano music involves both treble and bass clefs (guitar uses only treble clef), chords and melody (as opposed to, say, trumpet or flute…which only express melodic lines).  Most college-level music programs require all music students to learn some piano (even if they are majoring in another instrument).  The piano provides for a more comprehensive understanding of how music works.  Many college-level students of other instruments express regret that they did not learn piano as a kid.
So, because it is easier to learn (at the beginning stages), and because it is more practical as a learning tool, I recommend very young and beginner students start on piano.  There's always time to add guitar into the mix later.  As a child approaches his/her teens, they tend to grow more interested in pop culture.  But if they have taken piano while young, they will be better prepared if they decide to dabble in contemporary guitar.