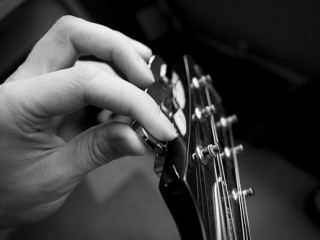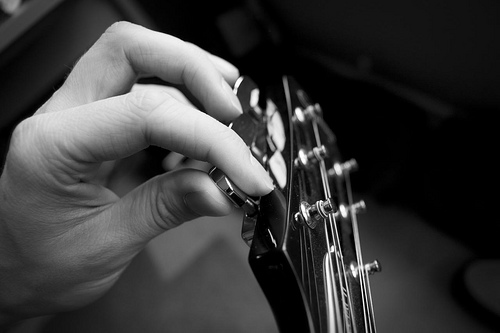 One of the most common questions my guitar students (and their parents) ask is, "What is the best way to tune a guitar?" This should be an easy question to answer.  But…you guessed it…it's not. Several factors can have substantial effect on tuning a guitar…and keeping it in tune.  The following are some of the most common factors you should know.
How Good Is Your Guitar?
This should come as no surprise, but some guitars are better than others.  Prices can range from less than $100 to several thousand and beyond.  Often parents buy beginning students "starter" guitars for a low price, and some of them can be almost toys rather than legit instruments.  While there are exceptions, you can bet the cheaper the guitar, the harder it will be to tune…and the more likely it will not hold its tune well even if you manage to tune it.  Cheap parts such as the wood, the fret dividers, the bridges, and the metal tend to be less than precise.  Even if they come well-calibrated new, they tend to wear down more quickly and make tuning difficult to impossible.
Bridges on cheap guitars tend to be calibrated poorly, and the strings end up being too close or too far from the fretboard.  When strings are too close to the fretboard, they tend to buzz and often cannot sustain a tone.  When strings are too far from the fretboard, the distance you have to push the string to play a note can cause that note to play out of tune, even if the string was in tune when played open.  And if the fretboard is warped (you can tell by looking straight down along the long edge of the fretboard), no telling how many notes will play out of tune, even if all the strings are in tune when played open.
You could pay good money to have these parts upgraded.  Sometimes even good quality guitars need to be taken in for maintenance and tweaks.  But if your guitar is low quality, I would strongly recommend you save your money and spend it on a better guitar.  Most low quality guitars are inexpensive for a reason.  It's not worth trying to make them better.
How Good Is Your Ear?
If you have perfect pitch, you can tune your guitar strings without any additional aids (such as a tuning fork, an electronic tuner, or another instrument).  But most people don't have this skill (and, after all, perfect pitch is not always an asset, but that's another story…).  If you have a good enough ear to hear relative pitch and have access to a tuning fork, pitch pipe, or another tuned instrument, you can use your ear to tune your guitar. 
In fact, I believe this is the best way to tune a guitar.  If your ear is good, once you tune your first string by matching it to your tuning aid, you can tune the rest of your strings by using relative pitch (as long as you know what note each string is supposed to match).  Even without perfect pitch, you can get around having to use an aid as long as you know what your lowest singing note is.  You can sing your lowest note and then proceed to use relative pitch to tune your guitar.  But even if you are very accurate with this method, chances are you will not be exact, so using an aid along with your relative pitch is best.
Sometimes deliberately tightening or loosening a string slightly above or below its proper pitch can help your ear home in more accurately…
Another common tuning method: once you are confident that one of your strings is in tune, you try to match another string by playing that string's note on your tuned string (for example, if your low E string is in tune, you can play the 5th fret of that string—which is an "A"—then tune the A string to match that pitch). This "string-to-string" matchup often is less than ideal, however, especially if your fretboard is not calibrated accurately.
Electronic tuners (some guitars come with them attached) are very reliable, and come in handy if your relative pitch skills aren't that developed (which is often the case with young and beginning musicians), or if you are trying to tune with a lot of noise or music going on around you (such as during a performance).  Electronic tuners also are available on cell phone apps.
Warning: Less experienced musicians need to guard against mistuning strings.  If a string is tuned too tightly, you might be led to believe it needs to be tuned even higher to finally match the right pitch.  Even electronic tuners sometimes will "mistake" a badly tuned string for a different note and will direct you to tune it too tightly.  This often results in a broken string.  If you are not sure, it's probably best to have a more experienced musician help you.  Sometimes deliberately tightening or loosening a string slightly above or below its proper pitch can help your ear home in more accurately as you finely tune the string.
Some More Tips
Don't leave your guitar out in the elements or in a hot or cold car.

 

This will wreak havoc on your tuned strings as well as on wood and metal, and may even cause permanent damage.
Old strings corrode and are harder to tune and tend to hold their tune poorly.
New strings need to be stretched and often need to be tuned and played for several days before the strings "settle in" and begin to hold their tune.

 

Some guitarists deliberately pull on their new strings to try and expedite this settling process.
Most guitarists tune their guitars every time they play, even if their guitars are high quality.

 

Better guitars hold their tune better and are easier to tune, but still need fine tuning before each session, sometimes even during a performance.
Sometimes tuning one string can cause another to slip out of tune, especially on low end guitars.

 

Often you need to repeat the tuning process for all 6 strings to at least get close.

 

Then, once you begin to fine tune, the strings will tend to hold their tune better.
     *       *       *
Developing your hearing and tuning skills can take time.  There are several videos available online that can help you learn how to tune your guitar.  The best way to learn, however, is by letting a more experienced musician show you in person, and by practicing tuning your instrument. The more time you spend tuning and playing your instrument and improving your hearing skills, the easier tuning will be.  And it doesn't hurt to have a reasonably good quality instrument.