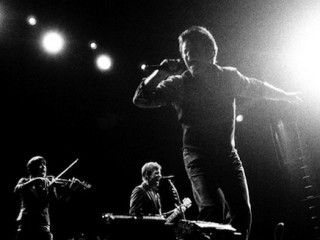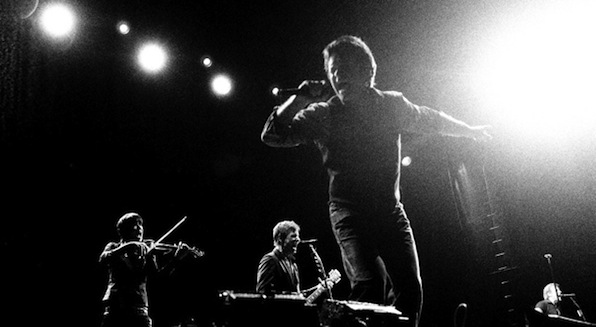 The John Mellencamp documentary, IT'S ABOUT YOU, was filmed (on film) by Montana-based photographer, Kurt Markus, who traveled with rock and roll hall of famer Mellencamp and band for a period, filming portions of recording sessions and concerts. Included are several Mellencamp tunes from the past as well as more recent ones. The film was used as an opening act on Mellencamp's 2012 concert tour (which included Bob Dylan on the bill), and received high praise.
This is not a review of IT'S ABOUT YOU per se. You can find several commentaries online. Rather, I want to speak personally about my reaction, which extends to my feelings about the state of rock music in general. IT'S ABOUT YOU is a rare film that accurately and poignantly captures a slice of art in transition: the passing of folk-rock culture from its golden age in the last half of the last century to the onslaught of the digital age.
IT'S ABOUT YOU really is not a documentary in the strict sense of the word. Nor is it "reality TV" depicting life on the road. Markus, in fact, states explicitly that he chose not to film Mellencamp or band members while on the road (in the bus or plane) or during their personal times (in hotel rooms, on their phones, etc.). He says he did not want to encroach on their much-needed privacy, a sentiment likely expressed far too seldom by folks in the media.
Rather, Markus focuses on a portion of a concert here, a part of a recording session there. He makes minimal commentary and allows the moments to speak for themselves. Perhaps this is the reason why some critics panned the film for "lacking narrative". But I often am frustrated by so-called films about music and art which focus mainly on back stories and detailed commentary and end up leaving out the very things IT'S ABOUT YOU provides. (SIDE NOTE: critics also panned Kubrick's 2001:A SPACE ODYSSEY for "lacking narrative" when it first came out, and we all know how that turned out!)
Markus' purpose was not to make a documentary, but to document moments in a waning way of life. The film shares little in the way of thorough details about live performance, recording engineering, and the trials and tribulations of being on the road, replete with all the standard back stories about romance, drugs, and parties. And yet, just as the film captures a baptism of a white woman at a small, country, southern black church, I found myself immersed in nostalgia for the 60s and 70s, when much of popular music-making was still a computer-free, grass-roots process.
Maybe I shouldn't be too hard on the critics. After all, I have some advantages (or biases?). I grew up during the 60s and 70s, right alongside John Mellencamp and friends (yes, we first knew of him even before his reluctant incarnation as "Johnny Cougar"). And, in fact, I spent much time living in the same area (Southern Indiana), and even in the same small town. And that's not all: I also grew up, just like Mellencamp, playing in rock bands. So, while I never knew him personally, I share many of the same life experiences. But I believe you don't have to be a child of the 60's in Southern Indiana who played in a rock band to share in the admiration and nostalgia inspired by Mellencamp and IT'S ABOUT YOU.
In circles I traveled, most of us gravitated more toward virtuosic rock artists (say, Hendrix, Van Halen, Clapton, McClaughlin, and the like). But that's because we were into instrumental virtuosity. I doubt Mellencamp would make it on anyone's top ten list as a guitarist…or even as a vocalist. But then, neither would Mick Jagger, Bob Dylan, or Tom Petty. As I matured, I began to pay more attention to lyrics and arrangement, to taseteful lines well-placed versus flashy virtuosity. In countless discussions with friends regarding our rock and roll top ten lists, I found myself insisting repeatedly that Mellencamp is among our best songwriters. Apparently, as Markus states in IT'S ABOUT YOU, Johnny Cash agrees.
Mellencamp's songs could never have been, and never will be, written by a computer.
IT'S ABOUT YOU does include a number of moments on the road… shot from the bus out onto the slowly passing mid-American landscape. Sometimes you hear a brooding comment from Markus, but mostly you hear some Mellencamp tune in the background.
As I reminisced about my own journeys through the music profession, I recalled those moments Tom Petty called "rock heaven"… you know, that recording session where everything just came together perfectly, or that concert where the crowd screamed for an encore, or that open jam session at the Otis Park bandshell in Bedford, Indiana, where two dozen musicians of various skill levels and from different bands just kind of showed up, with no rehearsal, to take turns jamming to an appreciative audience on July 4th.
Watching the trees and hills and barns pass slowly on the screen, I couldn't help but feel a deep sense of sadness. The day of the vinyl record, even the tape recorder, is passed. Straight ahead, grass roots live recordings, with minimal tweaks and enhancements, are becoming rarities. The phenomenon that was American folk and rock 'n roll culture is being engulfed by sequencers, computerized tone correction, and lip-synching. Kids are introduced to Bach as well as Beck only if the music is background for an ad.
But there's one thing that computers will have a hard time replacing. The ability to create art. Mellencamp's songs could never have been, and never will be, written by a computer. Just as human ingenuity overcame 2001's Hal 9000 computer… and eventually learned to work with it… the human touch will always be essential in any worthwhile endeavor.
IT'S ABOUT YOU may not win at Cannes. But I believe in time it will be hailed as a rare picture of the creative heart of John Mellencamp and his mid-American culture, a culture he never sold out or abandoned. As you watch the countryside in IT'S ABOUT YOU, allow yourself to pay respect to our recent American past.
If you walk about the city, chances are you'll hear or see some snippet of Mellencamp's legacy somewhere along the way. If you are lucky enough to drive outside the city, allow the passing scenes to fill you with a sense of longing.
And there's a good chance, if you turn your radio on, you'll hear refrains of "oh yeah…life goes on…even after the thrill of livin' is gone…"